Cinelli
Regular price
$3,745.00 USD
Regular price
Sale price
$3,745.00 USD
Unit price
per
Sale
Sold out
Request customization
The Crans duvet is made with padding from Icelandic Virgin Eider duvet , for one weight of 150gr/m2 . Packaged with Super batiste cotton , Crans Eiderdown is the softest and lightest in the world, with incomparable thermal insulating properties .
Packaging made with quilting with fixed closed squares allows you to perfectly isolate each square, avoiding the annoying escape of the feathers.
Crans offers two weight variants, with thermoregulatory performance of 3 heat points, in the Medium variant, and 5 heat points, in the Extra Warm variant:
Medium (3 heat points) : for temperate rooms, between 18 and 21°C.
Extra Warm (5 heat points): for rooms with temperatures below 15°C
The Cotton Super Batiste , is a fabric processing born near Cambrai and takes its name from its inventor, the weaver Baptiste Cambray. This is a plain weave, produced with very fine yarns, mercerized and combed to obtain a very fine fabric , light And breathable .
Padding

Icelandic virgin eiderdown
Down filled comforter

The Icelandic Eider Down is a very precious material and difficult to procure: this bird lives only in the wild and cannot be farmed. Its down, characterized in the female by the white tip and burnished streaks, mainly comes from the animal's under-chest. This wild species inhabits the whole area of ​​Northern Europe, but particularly Iceland, and nests on top of high rocky cliffs. Only once the family unit has left the nest, teams of experts recover the plumage used to protect the brood from the cold northern winds.
This explains the great value of this material, which has incomparable thermo-insulating properties: the individual duvets hook together thanks to the microscopic hooked structures, creating a cohesive blanket, incredibly soft and light.
Measures

Single: 155 x 215cm:
One and a half square: 200 x 215 cm;
Double: 250 x 215cm.
Specifications

Fabric: 100% Super Batiste Cotton
Filling weight: 150gr/m2
Quilting: fixed squares 8x10cm
Brands

Cinelli promotes and celebrates the culture of feathers: an artisan tradition and a wealth of knowledge that enhance and hand down all the natural qualities and properties of goose feathers. Masters since 1864 in the creation of products in real goose down, Cinelli is a proudly Made in Italy brand.
View full details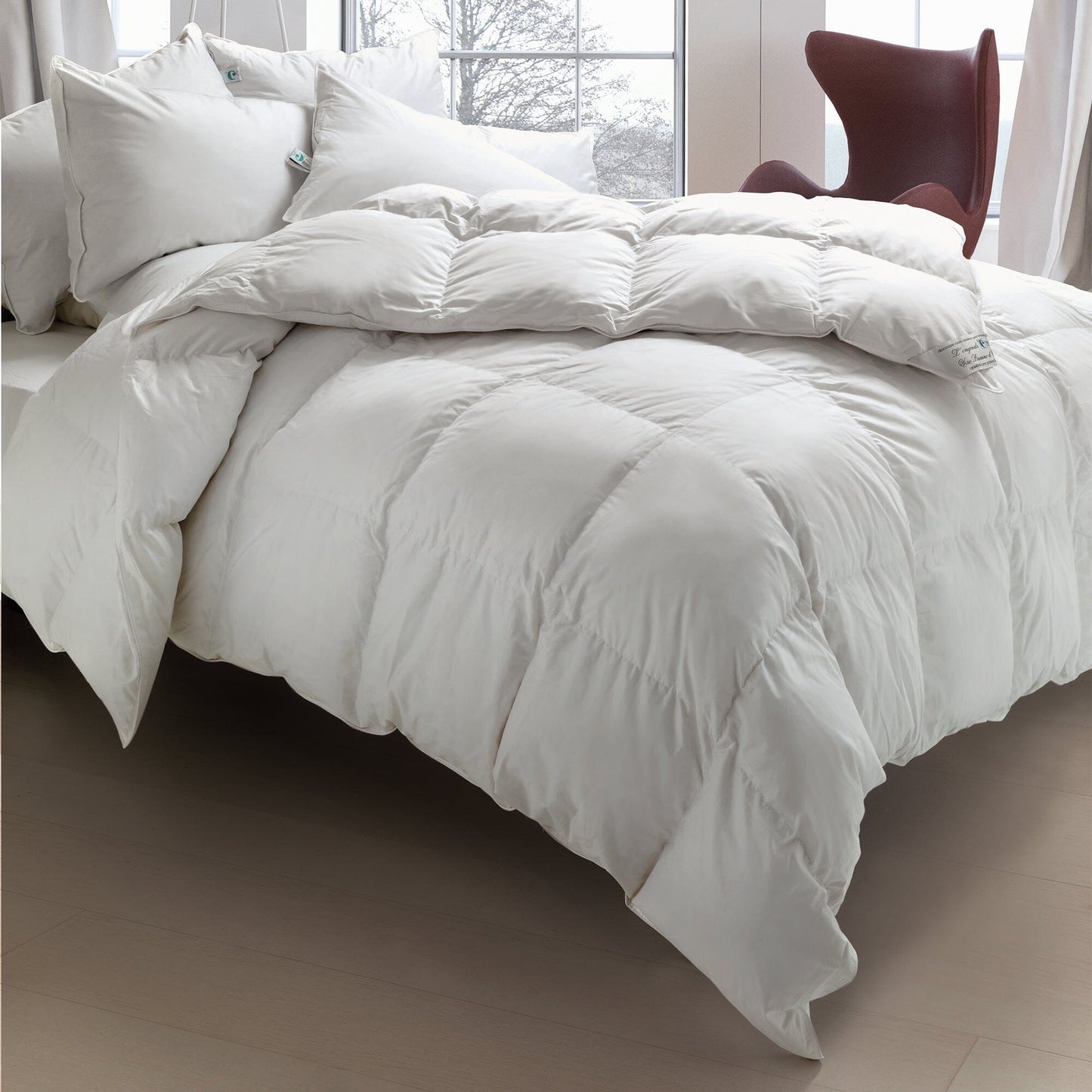 Customer Care
Our Customer Care is at your complete service.
Call or Email us for:
Purchase advice and choice of the most suitable product for your needs
Product information
Questions about orders and shipments
Doubts and/or problems
AS?
Telephone: 02 94753399
Email: info@bottega1964.com
The Service is active from Monday to Saturday
TIMETABLES
Monday - Friday: 09.00 - 19.00
Saturday: 09.30 - 15.00
Requests received on Sundays or holidays will be processed on the first working day.
Washing Instructions

The Siberian goose down is to be dry cleaned, contact a professional laundry.

Personal Shoppers

Our Customer Care is at your complete service for any request.

Our contacts